Since 1975, Iranian Carpet is specialized in the sales, restoration and cleaning of Persian carpets
SALES & MAINTENANCE OF HAND-KNOTTED PERSIAN RUGS
Iranian Carpet Co is based in Belgium since 1975. Founded by Mr. Reza Aminian, who has over 45 years experience in the trade of hand-knotted carpets in bazaars of Iran and throughout Europe, this family business has been taken over by Mr. Ali Aminian in the year 2000.
SALES & MAINTENANCE OF ORIENTAL CARPETS

Our collection consists of carpet from different origins, which you can see in our webshop.
Some patterns are floral, other geometric.
The node density per m2 is also important and stands for superior quality.

PURCHASING & SALES
We travel through different countries to make a careful selection of the finest oriental carpets from Iran, but also from Afghanistan, Turkey and the Caucasus. Our regular contact with various suppliers from these countries guarantees you the best possible price/quality.
HOME SERVICES
We offer a home service which allows you view carpets at your home and to get our personal assistance choosing the best style & size.
CLEANING, MAINTENANCE & EXPERTISE
We provide guarantee and maintenance of your oriental carpets and our services include cleaning and repairing (fringes, edges, rips…).
Our company is also certified to perform carpet expertises  (for instance after a natural disaster) thanks to our close collaboration with large insurance companies. DISCOVER OUR EXTENSIVE & VARIED COLLECTION OF ORIENTAL CARPETS IN OUR SHOWROOM
YOUR TRUSTED SUPPLIER SINCE 1975

RELIABLE ADVICE & FULL SERVICE PROVIDER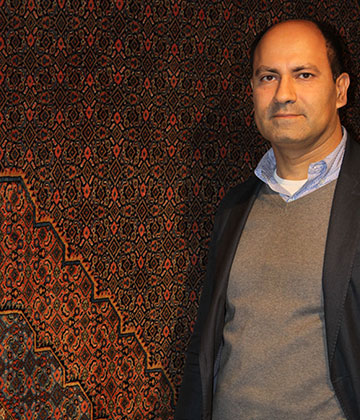 ALI AMINIAN
STORE OWNER IRANIAN CARPET CO

OUR SERVICES
Our services include the sales of Persian rugs, as well as the restoration and cleaning of rugs.

OUR COLLECTION
Discover our collection of hand-knotted Persian rugs & kilims in our webstore and in our showroom.
INTERESTED IN VISITING OUR SHOWROOM?
We welcome you in our showroom located in Wezembeek-Oppem, within a 10 minutes drive from the center of Brussels.